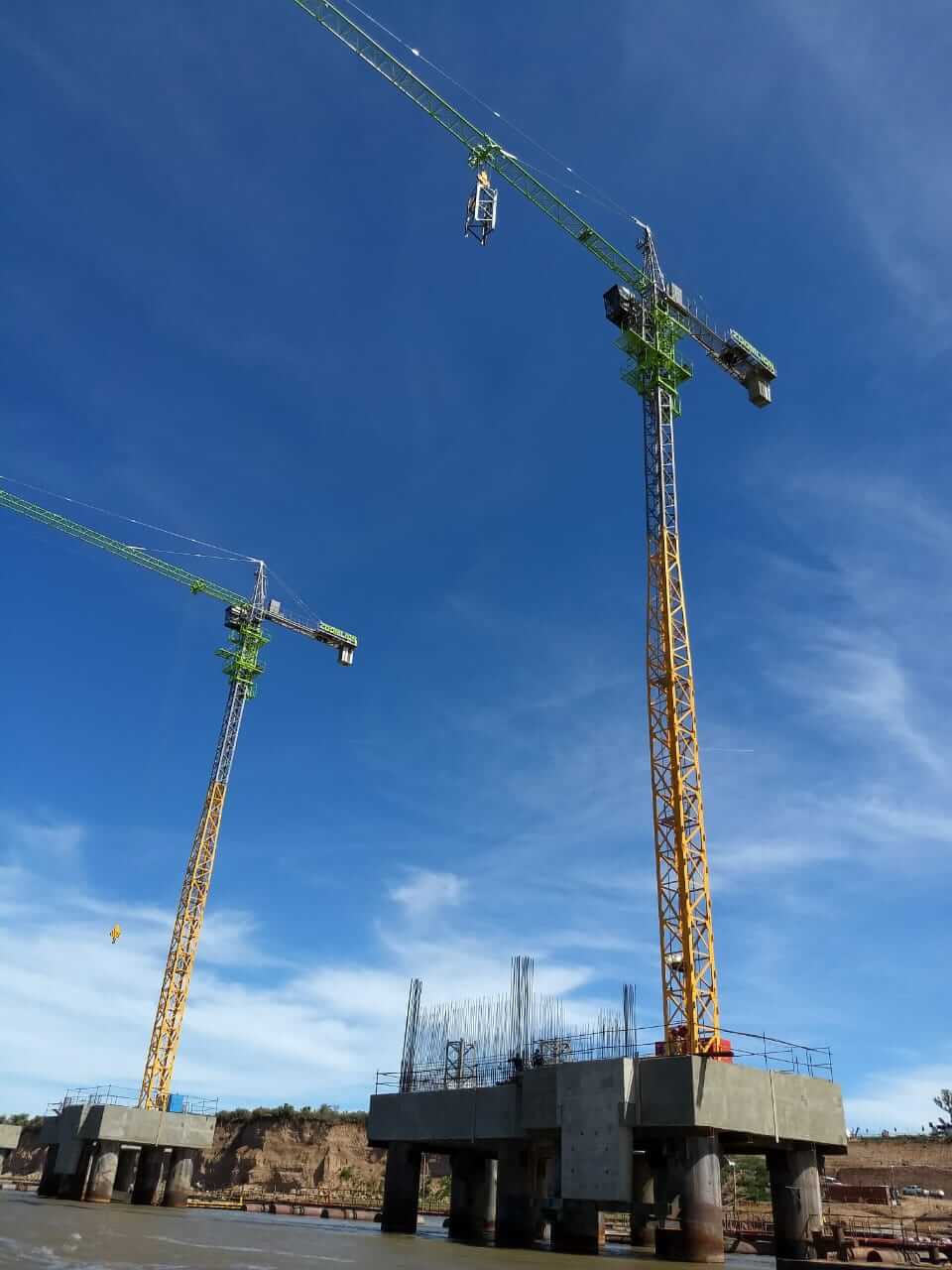 | ITEM | ESPECIFICACIÓN |
| --- | --- |
| Fabricante | Zoomlion |
| Origen | China |
| Condición | Nueva |
| Seguridad y Certificación | Certificación ISO 9001:2000 |
| Longitud de la pluma (Max) | 50 m |
| Momento Nominal de Levantamiento | 630 KN.m |
| Max. Capacidad Levantamiento | 5 ton |
| Max. Capacidad de Carga en la Punta | 1.3 ton |
| Max. Altura Pie Sin Apoyos | 39 m |
| Max. Altura Trabajo Anclada | 100 m o de acuerdo con su requerimiento |
| Mecanismo Carga | H15SP10-280-D, potencia 18/18/5 kw |
| Mecanismo de Giro | HR55.130, potencia 5.5 kw |
| Mecanismo Trolley | BE24B,YEZS112M, potencia 2.4/1.5 kw |
| Potencia – Voltaje | 440V /60Hz |
| Sistema Eléctrico | Control PLC |
| Temperatura de Servicio | -20° / 40° |
| Contrapeso | No Incluido |
| Canasta de Seguridad | Incluida |
| Tamaño de los mástiles | 1,2m Largo x 1,2m Ancho x 3,0m Alto |
| No. de Contenedores Transporte | 3 x 40 HQ + 4 X 40 GP + 1 X 20 GP |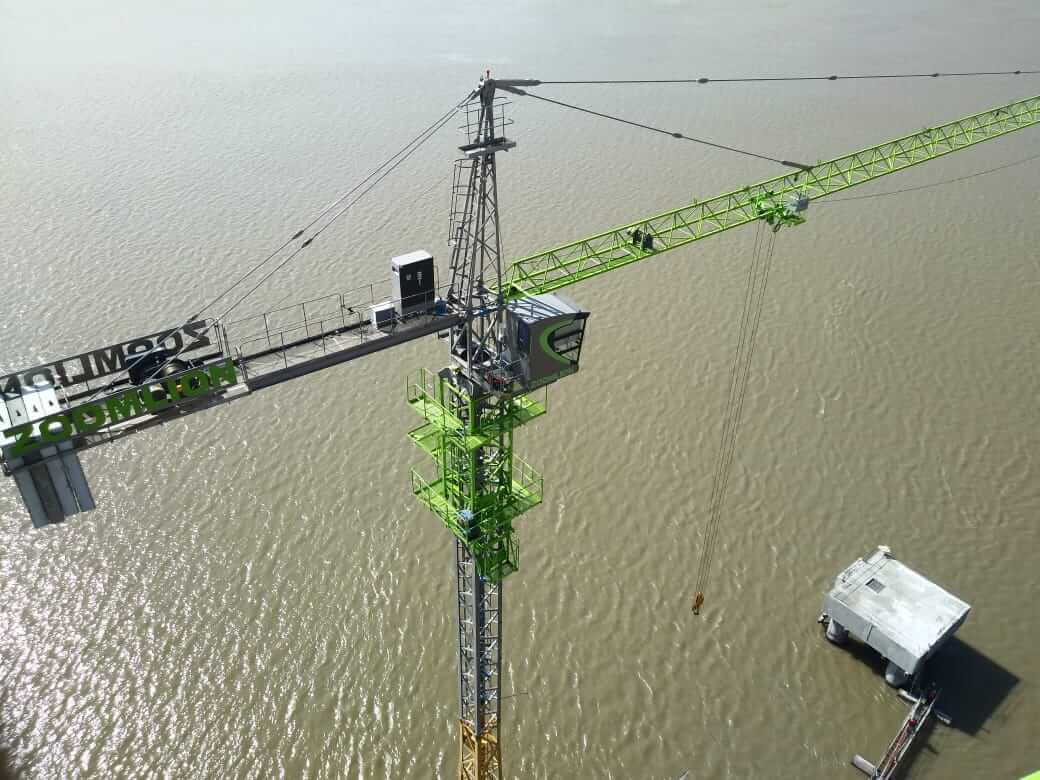 Beneficios de las Torres Grúas y Elevadores Nuevos SULINK-ZOOMLION
Los Clientes Arquitectura y Concreto, Constructora Conconcreto, Londoño Gómez, Umbral, Ingeurbe, Hospital Pablo Tobón Uribe, pueden certificar la calidad, productividad, eficiencia, seguridad y rentabilidad de las Torre Grúas y Elevadores Sulink-Zoomlion.
Todos los elementos como motores, ganchos, cables, etc., son de primera calidad que garantizan la máxima seguridad y productividad de las Torre Grúas y Elevadores Sulink-Zoomlion.
Las Torre Grúas y Elevadores Sulink-Zoomlion están equipadas con una cabina ergonómica y cómoda, sistema de telescopaje; y además, tienen pasadizos y pasamanos que garantizan la seguridad del operador y personal técnico.
Las Torre Grúas y Elevadores Sulink-Zoomlion son fáciles de instalar y operar, ofrecen una excelente velocidad de izaje y transporte de materiales en las obras buscando la mayor eficiencia y productividad.
Las Torre Grúas y Elevadores Sulink-Zoomlion tienen Sistema de Control PLC japonés y sus elementos eléctricos son de la marca Europea Schneider.
Las Torre Grúas y Elevadores Sulink-Zoomlion son de acero de máxima calidad, alta resistencia y bajo peso, soldadura robotizada con empates perfectos para evitar grietas y oxidación, ideal para la construcción de sus edificios, centros educativos, hospitales, hoteles, centros comerciales, viaductos, puentes; etc.
La fabricación de las Torre Grúas y Elevadores Sulink-Zoomlion cumplen con todos los estándares de calidad y producción de las normas americanas ISO 9001:2000 y Europeas DIN.
Sulink-Zoomlion tienen aproximadamente el 50% de participación en el mercado Asiático, venden anualmente más de 18.000 torre grúas y 12.000 elevadores.
Sulink es Servicio Técnico, suministro de repuestos y posee un excelente equipo técnico para Montaje y Desmontaje de sus Torre Grúas y Elevadores Sulink-Zoomlion.
Sulink-Zoomlion brinda un excelente soporte al cliente con Ingenieros directos de Fábrica para capacitación en Montaje, Desmontaje, Operación y Mantenimiento las Torre Grúas y Elevadores, garantizando un óptimo funcionamiento en sus Obras.
Demostración, montaje, servicio, repuestos y ventas de las Torres Grúas y Elevadores ZOOMLION, en SULINK.
Intelligent Manufacturing Milestones ZOOMLION will build a wordl – class "Ligthouse" factory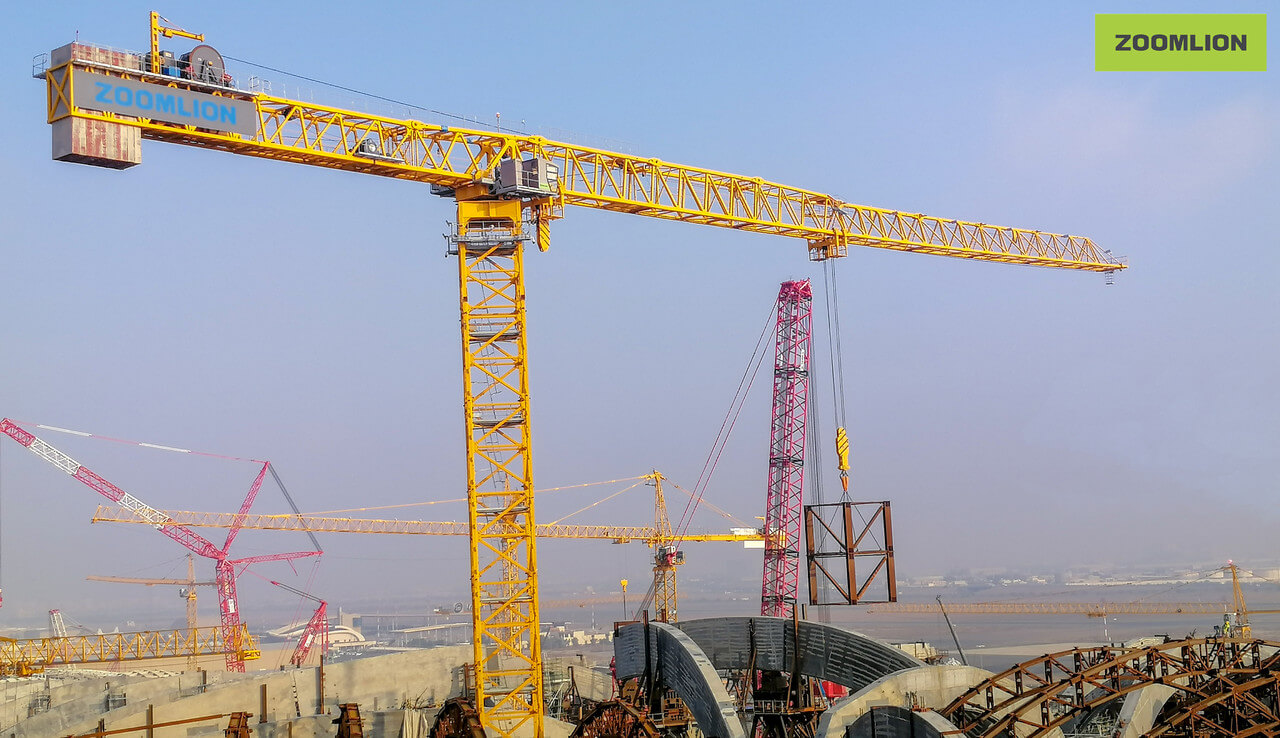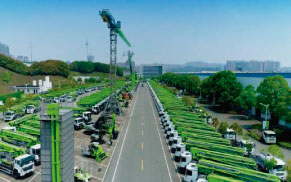 On April 24, the launching ceremony of the ZOOMLION's "Future-oriented • leading for the next 30 years" management consulting project was held in Changsha ZOOMLION science and technology park. Accenture, a well-known international management consulting firm, will jointly carry out this project with ZOOMLION. The two sides will take the opportunity of building ZOOMLION Intelligent Industrial Park to help achieve a milestone industrial upgrade and build a world-class "Lighthouse" factory and High-end equipment intelligent manufacturing samples, leading China's intelligent manufacturing innovation and development.
ZOOMLION's senior management team led by Dr.Zhan Chunxin, President and CEO of ZOOMLION , Marcelo, President of Accenture's Strategic Consulting Division, and Jia Jin, President of Accenture's Enterprise Technology Innovation Division, and team members from both parties witnessed the project launch. Vice-President Dr. Fu Ling presided over the launching ceremony.
According to the reports, the "Future-oriented • leading for the next 30 years" project will be implemented step by step in an orderly manner from business, enterprise and industry. To realize end-to-end market matching gradually, also the R&D, production, supply, and marketing closed-loop intelligent management; to digitalize the interoperability of all business departments of the company, and to realize the interconnection of upstream and downstream enterprises; relying on the company's own advanced industrial influence , leading a new model of industrial collaborative production in China's intelligent manufacturing.
The project will first land in the ZOOMLION intelligent industry park construction project, building a "visible city" while creating an "invisible city"-using digital technology to achieve full openness of production factors and intelligent collaborative utilization, ZOOMLION intelligent industrial park will be built into a world-class Lighthouse factory with intelligent decision control tower, factory digital twin technology, flexible manufacturing technology, and end-to-end connectivity with customers and supply chain, and with intelligent factory management and governance system.
Accenture is an internationally renowned professional services company. Relying on excellent digital capabilities, it provides customers with strategic and consulting, interactive marketing, technical and operational and solutions. Its business covers more than 40 industries and serves customers in more than 120 countries around the world.
Dr.Zhan Chunxin, President and CEO of ZOOMLION, once said that intelligentization is the future, and ZOOMLION towards intelligentization for the future.
Be steady and dream big, and towards intelligentization for the future. The launch of the management consulting project of "Future-oriented•leading for the next 30 years" will present the world with a leading and brilliant ZOOMLION intelligent industry park, building the foundation of long-term prosperity and the path to a great enterprise.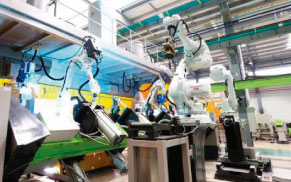 2 Billion Investment! ZOOMLION rebuilds east China tower crane intelligent plant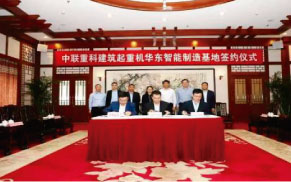 On May 11, the ZOOMLION Construction Hoisting Machinery Company (ZCHM) east China Intelligent Manufacturing Base project with a total investment of 2 billion yuan was officially signed in Jiangyin Lingang Development Zone to build a world-class tower crane intelligent manufacturing plant with estimated annual sales of more than 3 billion RMB. The signing of this contract marks that the ZOOMLION crane sector started from Jiangyin base and begins a new journey to accelerate its entry into overseas markets.
ZOOMLION Tower Crane Stepped forward in Adversity in Korea Market
Before the Spring Festival of 2020, the sudden outbreak of Covid-19 brought serious impacts on the global economy. As one of the most important overseas market of ZOOMLION tower crane business, Korea also suffered from the wide spread of Covid- 19 due to the super-spreader and church gathering incidents, becoming one of the most severe countries impacted by the pandemic. Fortunately however, after extensive testing and strong intervention by the local government, the spread of the pandemic was quickly controlled and the construction industry was the first came back to normal. With the close cooperation between the ZCHM overseas team and ZOOMLION dealer DODO , the business did not shrink because of the pandemic. Instead, both parties seized the great opportunity of the construction industry resume and expanded the business timely, making the best sales record in the same period in history. In addition, ZOOMLION took almost 50% exporting market share of the tower crane to Korea in the last months in 2020, ranking No.1 in the market. It is worth mentioning that
during the Spring Festival of 2020, when China was seriously impacted by Covid-19, DODO donated a large number of face masks to ZOOMLION, helping the factories to resume to work and expediting the production and supply of the tower cranes.
ZOOMLION and DODO have cooperated since 2013. In the past years, a cooperative concept of common interests and shared future was established between two parties. The dealer have been treating themselves as a member of ZOOMLION family and taking the cooperation with ZOOMLION as an internal work instead of treating themselves as merely a buyer of ZOOMLION. Under the guidance of such a partnership concept, both parties not only work closely on product development and introduction, but also on the product customization to meet different market requirements with the participation of ZOOMLION R&D team. estimated annual sales of more than 3 billion RMB.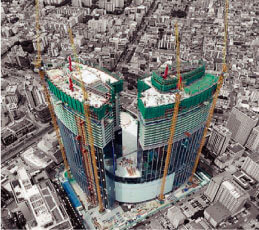 ZOMMLION luffers constructing the highest building in Jeju Island – the Dream Building
In addition, the dealer has established close interaction with ZOOMLION aiming to improve the product quality on Wechat. In this way, both parties can communicate with each other about the quality issues on a timely manner, improving the resolution efficiency. The dealer also regularly submits quality feedback reports to the factory, helping the factory to modify and improve the crane. In terms of marketing, every year the two parties jointly organize groups of Korean customers to visit the factory, showing the customers how things have upgraded and changed year by year and witnessing the improvement of our experimental conditions and production processes.rimental conditions and production processes.
It is through such close cooperation that we started from introducing initial 63t.m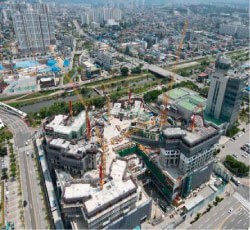 ZOMMLION flat-top tower crane group working in Daewoo jobsite
small flat-top crane to 400t.m luffing-jib crane to the Korea market step by step. So far there are about 300 ZOOMLION tower cranes in the market and we successfully changed stereotypes of the top construction companies like Daewoo, Lotte and Samsung towards Chinese product, and thus became the supplier of these companies.
The dealer in Korea has not only been recognized by local customers and won the respect of the market, but also won the title of ZOOMLION Excellent Dealer for 3 consecutive years. It is firmly believed that the partnership between the two parties will last longer, the products will continue to be updated, the range of customers will continue to expand and the businesses of both parties will grow stronger via jointly efforts.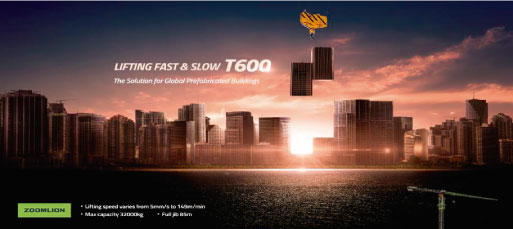 Product and Technology A New Chapter in North American Market, a tailored tower crane for hi-end market shipped to the US
Recently, a fleet of trucks loaded with ZOOMLION T600-32R flat-top tower crane departed from ZOOMLION Guanxi Industrial Park to Shanghai Port. When it arrives in Shanghai, it will be shipped to the port of Houston by sea. Yes, this is the first T600-32R shipped to ZOOMLION dealer in the US and also the second customized tower crane model for American market. It marks that ZOOMLION keeps making breakthroughs in the hi-end markets like the the North America and Europe.
During 2020 Conexpo held in Las Vegas in March, ZOOMLION and P&J Arcomet reached the batch purchase intention of tower cranes in 2020 at the exhibition. Subsequently, the two parties confirmed the purchase order for several T600-32R flat-top tower cranes, and this crane shipped is the first one of the order.
It is reported that the T600-32R flat-top tower crane is a special model tailored by ZOOMLION for the North American market. It meets the using habits and requirements of local users and has successfully passed the certifications of American National Standards Institute (ANSI) and National Recognition Experiments Relevant Certification of the Office (NTRL). The max jib length of the crane is as long as 85m, and the max load capacity is 32t. Under specific wind pressure conditions, the free standing height of the crane can reach 92m which is leading among the tower cranes of similar tonnage. It can be estimated that this model would be well received by the US customers.
"ZOOMLION tower cranes are gaining more and more trust and reputation from American customers," said the Manager of tower crane North American team. In the H1 of 2020, the global market was declining because of the double impacts of Covid-19 and the changing international environment. Even under such circumstance, ZCHM Overseas Team spares no efforts in developing the business and achieved sales revenue growth in H1.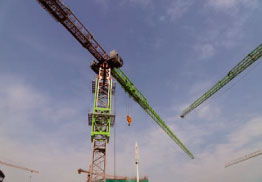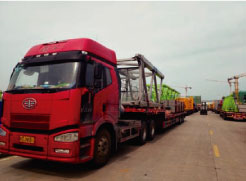 North America is one of the most important markets of construction machinery and equipment in the world, and entering the North American market has also become an crucial criterion for measuring the strength of of machinery enterprises. As one of the top ten global construction machinery manufacturers, ZOOMLION has been cultivating the US market for many years and tower cranes have firmly occupied the top position in the market share of tower crane exported to the US from China.
P&J Arcomet which is ZOOMLION tower crane dealer in North America has a long-standing reputation in American tower crane rental market. After years of rapid development, now it is one of the leading tower crane rental companies in America. ZOOMLION and P&J have cooperated since 2015 and co-designed the first tower crane model T8030-25 for American market.
A relevant person in charge from ZOOMLION said, "the first T600-32R flat-top was exported to the United States, which was a solid step for ZOOMLION's continuous deep cultivation in North American market." ZOOMLION will deeply promote the global "localization" strategy and further develop the international high-end market.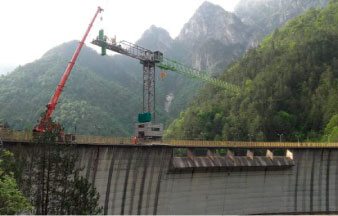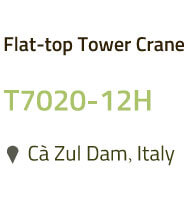 Fight the way out ZOOMLION's tower crane made its first landing in Slovenia
With the safe installation of the last jib in April, Fight the way out ZOOMLION's tower crane made its first landing in Slovenia By Benjamin Lee ZOOMLION Aurora Green looks particularly noticeable under the clear blue sky. In such a difficult situation that the pandemic is still spreading in Europe, ZOOMLION tower crane fight the way out and stepped into the land of Slovenia for the first time.
The project is located in Slovenia's capital- Ljubljana city, and it is a residential project. The customer Klancar is the largest tower crane leasing company in local and it currently has more than 80 units second hand Terex and Potain tower cranes. From the concerned face at first to fully trust of our customer in the end after nearly one year, it is the result of mutual cooperation of ZCHM and CIFA Europe team. The T7020-12H tower crane used this time is a star product of ZOOMLION. It adopts German JOST flat-top crane technology with full frequency conversion mechanisms, so it runs smoothly and has little impact on crane. It is a highly reliable and intelligent flat-top tower crane. The maximum lifting capacity is 12 tons, and the tip load can reaches 2 tons, which fully meets the needs of lifting steel bars and prefabricated blocks in residential building construction. In addition, the product uses 2.2 meter cross-section tenon monolithic section, which has strong stability and can effectively reduce the times of daily inspection and maintenance which will cause huge labor costs. In addition, it brings more confidence for customer to choose this model as
ZOOMLION tower crane has been working smoothly and steadily in Israel marke for almost three years.
The outbreak of the Covid-19 pandemic in Europe started at March, while EU countries act differently. Slovenia has not implemented a national travel-ban, and the construction site has not been suspended. Meanwhile, Italy posed a travel-ban on the entire territory, except for essential activities, which brings a lot of difficulties to the team.
ZOOMLION CIFA Europe team choose to fight in this difficult situation. They communicated with industry unions to ask local Police Department to issue special permission, with the working time and protection procedure are strictly requested. According to Andrea Sella Piazza, Regional Manager of ZOOMLION CIFA European tower crane business, "We repeatedly emphasized the importance of safety protection to the truck drivers, engineer and operator, meanwhile provided protective materials to them. The number of people on site was strictly controlled and they are required to maintain social distance.
The equipment successfully entered the site and delivered to the customer, and nobody was affected by the pandemic. The client highly praised the professional and responsible attitude of ZOOMLION & CIFA European team, also the fearless, people-oriented quality of the team. This entry into the Slovenian market will serve as a benchmark and have a profound impact on future cooperation. In the meantime, Klancar give the possibility of purchasing two units of T6515-8KC. Now, two parties keep discussion for dealer agreement cooperation. In 2019, ZOOMLION established the ZOOMLION CIFA European platform to develop tower crane business in Europe. Any small step means a breakthrough. In 2020, we will make persistent efforts to achieve a breakthrough in the European market, use excellent products and services to help customers growth, and help to increase ZOOMLION influence in Europe!
Embody the strength: ZOOMLION tops the list of valid invention patents in the industry
Sina Finance Science and Technology Research Center recently ranked the valid invention patents of listed companies in various industries. In the list of the quantity of valid invention patents of the machinery and equipment industry, ZOOMLION ranked No.1 in the industry with a total of 2,258 valid invention patents, which is 28 times of the average.
According to the news released by Sina Finance Science and Technology Research Center, there are totally 354 companies in the machinery and equipment industry included in the statistics. The total quantity of the valid inventions of these 354 companies is 28205 cases, so in average, each company owns 79.68 valid inventions. ZOOMLION topped the rank with 2,258 valid invention patents. In other words, the quantity of valid invention patents of ZOOMLION Industry is 28 times of the industry average.
The relevant ZOOMLION person in charge said, "In addition to the No.1 the valid invention patent rank, based on the internationally common indicators of objectively quantifying patent quality, the patent citations of ZOOMLION have reached 12523 times, which is also 20 times of the industry average. These are achieved due to ZOOMLION years of operation that have formed a relatively sound intellectual property system, a relatively complete intellectual property management system, and a high-level intellectual property team. According to the reports, so far ZOOMLION has applied for a total of 10,144 patents and more than 3,800 invention continuing to maintain its leading position in the industry.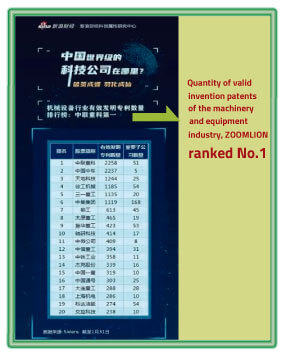 The source of intellectual property achievements is strong scientific and technological strength. The data shows that ZOOMLION is an enterprise incubated from the National Research Institute, has a strong "innovation gene" and is a national-level intellectual property demonstration company.
"Technology is the root, products are the foundation", this is the ZOOMLION R&D innovation concept. The company will continue to vigorously implement the intellectual property strategy, accelerate the cultivation and application of high-value patents, take the lead in the industry's technological development with an innovative spirit, and set the benchmark for the industry to promote transformation and upgrade with intellectual property rights.
The Overview of ZOOMLION's Corporate Culture
Founded in 1992 , ZOOMLION is mainly engaged in the research and development of high-tech equipment such as construction machinery and agricultural machinery. Through more than 20 years innovation and development, ZOOMLION gradually grew into an enterprise of global high-end technology equipment manufacturing. ZOOMLION actively integrates into the global mainstream industrial ecology with the overseas layout strategy of going out, going in, and going up. ZOOMLION culture is based on the Chinese traditional culture of a hundred schools of thought, with excellent Confucian culture as the orthodox, with Socialist values as the core, and on this basis, it is with the advanced Western cultural ideas and scientific management theory. Chinese and Western, compatible with each other, erudite and informed, keep the pace with time.
The core value of ZOOMLION is sincerity and restless pursuit , profound and far-reaching influence. Its core value is reflected in integrity, perseverance, tolerance and responsibility. It answers the questions of what kind of company to become and what kind of employee to be, which are the value standards that all ZOOMLION people should follow. ( To be continued…)